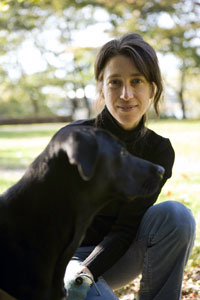 What is it like to be a dog?
In Inside of a Dog, Alexandra Horowitz evokes the dog's perspective by interweaving the science of dog cognition and perception with personal reflections on her own dog's behavior. Ranging from what it might be like to be able to smell sadness in humans or the passage of time; how the smallest Chihuahua can play with the most formidable Great Dane; the experience of hearing the hum of fluorescent lights; to why some dogs relentlessly pursue bicycle or ball, Inside of a Dog gives us insights into how dogs view the world. This book gives anyone who lives with, deals with, or admires dogs a new understanding of their sensory abilities, a nuanced interpretation of their behavior, and an appreciation of their minds.
63 weeks as a New York Times bestseller!
---
Buy the book
at an independent bookstore
as an audio book
at Amazon
in the UK (Simon & Schuster UK)
in French (Flammarion)
in German (Springer)
in Italian (Oscar Mondadori)
in Spanish (RBA Libros)